Discover Jaw-Dropping Luxury Vacation Rentals in Indonesia
Southeast Asia seems to find itself on nearly everyone's bucket list. Neighbouring Vietnam, Singapore, The Philippines, and Australia, this tropical country is a sight to behold. With the worlds second highest level of biodiversity, you'll feel as if you're stepping into a giant nature reserve, the moment you get off the plane. In terms of the tourism world, nature, as well as the local culture, are the two biggest features that travelers from all over the world fly to see, and of course I can't forget to mention the miles upon miles of long sandy beaches, coral reefs, and the lush rainforest.
Indonesia Travel Facts
Indonesia has the second longest coastline in the entire world, a jaw dropping 54,000km in total! This means you'll find beaches all over the country, making a vacation in Indonesia an exciting opportunity to experience the beach and sun.
Indonesia is home to the largest Muslim population in the world
Indonesia is made up of more than 18,000 islands
Lake Toba is a stunning example of Indonesia beauty. It's the largest volcanic lake in the world, with the latest erruption taking place 70,000 years ago, and happened to be the largest explosion on Earth at the time.
In 1883 the eruoption of Krakatoa was observed as the most deadly and destructive volcanic event in history. A staggering 36,417 deaths have been attributed to the eruoption and the tsunamis that were created by the event.
Villas in Indonesia
While exploring these incredible features of Indonesia, you'll be surprised to know that this country has some of the most jaw-droppingly beautiful luxury villa's and vacation rentals. If you're planning on escaping work for an extended period of time,or simply to discover the culture as a local, the growing number of vacation rentals available for travelers is a sign of a growing tourism industry. Let's check out some of the most incredible villa's I've come across.
Villa Hana
Canggu, Bali, Indonesia
Sleeps 6: ~$420 – $780 / night
4 Bedrooms
4.5 Bathrooms (4 Ensuite)
Pool
Villa Hana is a luxury rental located in Canggu, Bali, Indonesia. It comfortably sleep six people, and includes some of the most high end ammenities to be found. This incredible Villa was created by the world famous Australian designer and architect, Stuar Membery. You'll truly feel that he's captured the perfect mix of blending the creature comforts of home, with the natural surroundings.
This stunning villa is located only a short walk away from Echo Beach. It's the perfect place to spend the day soaking up rays and enjoying the fresh scent of beaches and the nearby forests. If sand isn't your thing, don't forget that this rental also is home to a 50 foot swimming pool, along with a massive media room with large screen TV, gaming consoles and a library of films from all of the world.\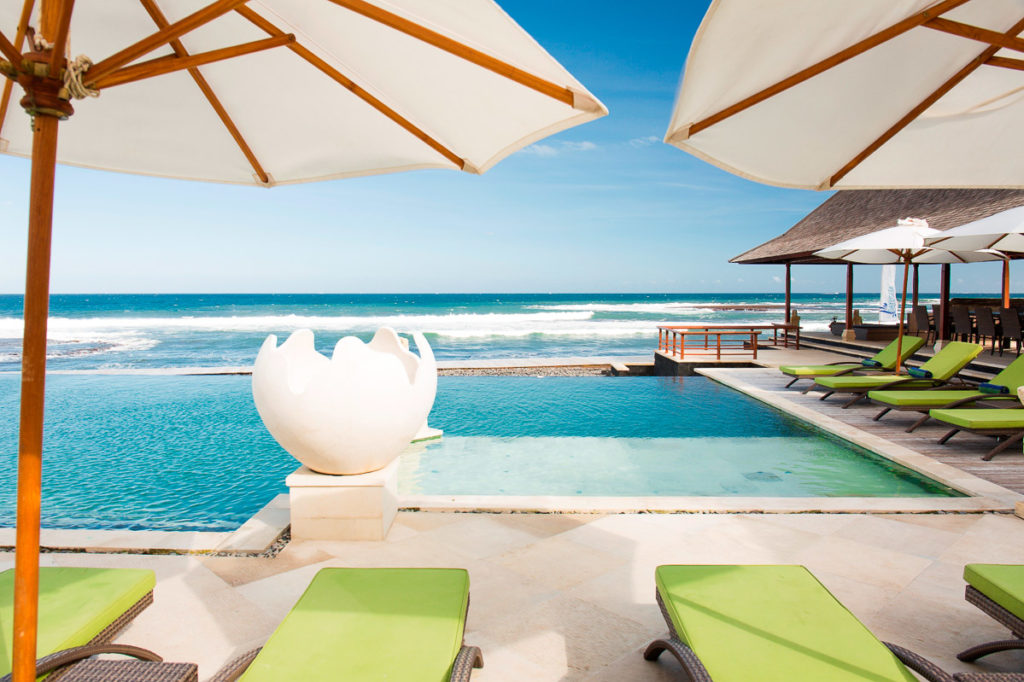 Bayu Gita Beachfront
Sanur-Ketewel, Bali, Indonesia
Sleeps 12: $1,125 – $1,650 / night
6 Bedrooms
6 Bathrooms (6 Ensuite)
Beachfront
Pool
To experience the beauty of Bali, you need to enjoy near the water, surrounded by nature and your closest friends and family. Indulge in the finer things at the Bayu Gita Beachfront Villa. This stunning vacation rental in Indonesia is a perfect example of luxury travel. 6 Bedrooms, 6 bathrooms, located right on the beachfront and of course, an unreal pool.
This vacation rental can comfortably sleep 12 guests. This five star villa is maintained by Balinese staff, including housekeeper, chef, chauffeur and security guard to guarantee a superb stay. If this is a working holiday, you'll relax knowing you've got high quality air conditioning, Wi-Fi throughout the property, as well as surround sound and multiple gaming systems to break up your day.
Looking to explore? You're conveniently located on the opposite side of the straits, which feature some smaller Indonesian islands, which provide some world famous scuba diving and snorkeling tours. Be sure to bring your camera as the coral reefs, shipwrecks, and wildlife in these parts is out of this world. Have your chauffeur drive you to Seminyak and check out the beach life and nighlight, as well as some high end restaurants. This is one luxury villa you'll want to check out!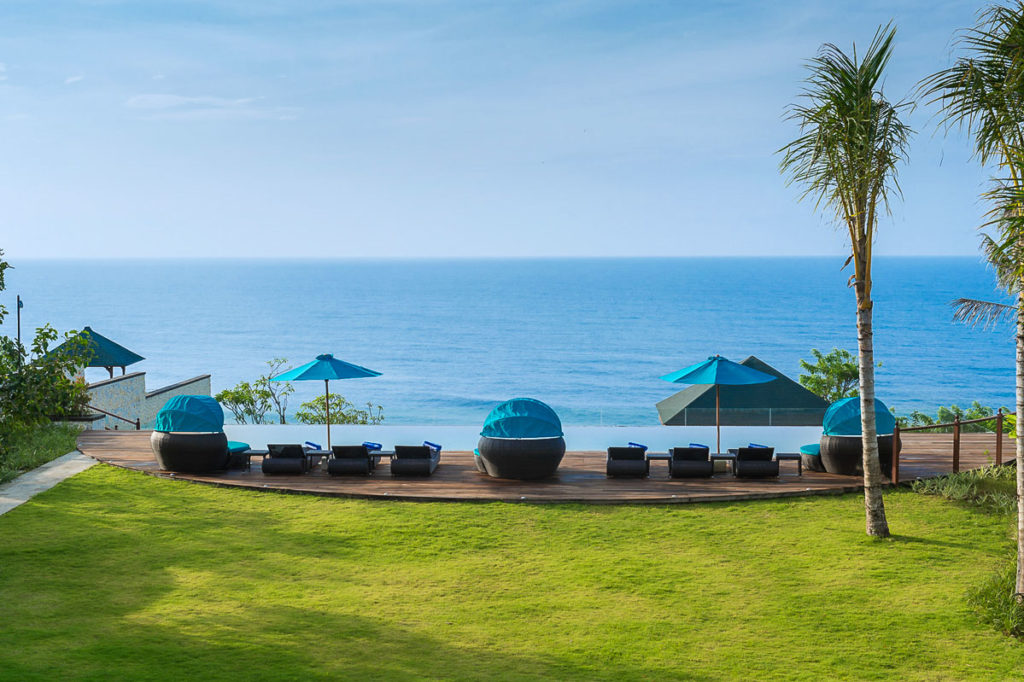 Rose at Pandawa Cliff Estate
The Bukit, Bali, Indonesia
Sleeps 8: $1,350 – $2,310 / night
4 Bedrooms
4 Bathrooms (4 Ensuite)
Pool
For those looking for a truly luxurious stay in Indonesia, look no further than Rose at Pandawa Cliff Estate. This four bedroom villa is designed as the perfect getaway for families, friends, or a romantic excursion with your partner. The design is a mix of tropical design and contemporary. It's a seemless blend that allows you to feel like you're living in luxury, whether you're outside of the villa or touring relaxing inside.
Bright rooms, high ceilings, marble, teak, and glass all compliment the design of the high quality furnishing throughout this rental villa. Those looking to keep in shape while on vacation will be happy to know that this villa also has a sports centre, including squash and tennis courts, a spa, and gym.
A discreet team of local staff members, including butlers, house  keepers, kitchen staff, as well as security work day and night to ensure your stay at Villa Rose is an unforgettable one. Crystal clear waters surround this villa, along with coral reef, and beautiful white sands of Pandawa Beach, located below the estate via a new road that cuts through the cliff.
Beautiful Bali Beach Villas
If you're planning on visiting Indonesia to experience the beautiful weather and long white sandy beaches, a luxury rental is the best way to take it all in. Luxury travel isn't reserved for the rich and famous, a high quality villa can be split with several friends or family members, making it comparable to a high end hotel. Check out the video above to get a quick sense of what you could experience while staying in one of the most beautiful destinations in the world.